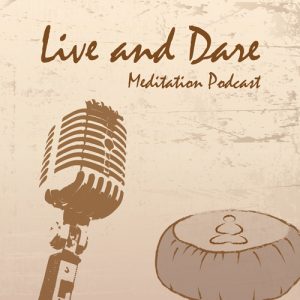 Do you prefer consuming content in audio format, rather than blog posts?
If you look for meditation podcasts you will see that almost all of them are either just a collection of Guided Meditations, or discussions from the point of view of a specific "path". I feel there is much more that can be covered about meditation – stories, insights, interviews, etc. That is why I have launched Live And Dare's Meditation Podcast, for you to have unique content about meditation and mindfulness easily accessible anytime.
For those that are new to podcasts, a podcast is like a radio show, but delivered through the internet, directly to your device (computer, smartphone or tablet). You subscribe to a show and then you get new episodes automatically, to be consumed whenever you want, however you want. Since you have downloaded the mp3 files of the shows, you can listen as many times as you want.
You can listen to the episodes here on the blog, on your iPhone/iPad through iTunes or the Podcast app (instructions), and in Android devices with the Stitcher app (available in Google Play). Here are the links for listening:
Podcast logo design by
Sepide Tajima,
and credits also to
Freepik
for the mic.
]
Make it Your Podcast!
I want to prepare the best content for you, so let me know what you would like.
Loading ...
Want to be interviewed?
If you are a meditation or mindfulness teacher (or facilitator, researcher, author, etc.), and are interested in being interviewed for the Podcast, please fill in the form here. It's a great opportunity to let people know more about you and your work.